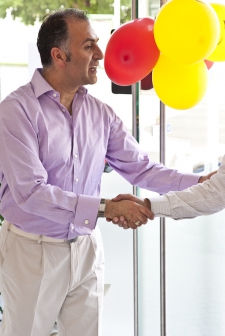 In Smile Dental Studio, only the highest qualified professionals are employed. We are professionals that belong to the best of our profession and every day we continuously invest in our knowledge, expertise and specialization.
Smile Dental Studio is led by Dr.  Azari who in 1994 graduated from the University of Liege in Belgium.  In 1997 he specialized in Oral Rehabilitation in Lausanne, Switzerland.  Previously he worked as a dentist in Belgium, Seychelles and the United Kingdom.
Dr. Azari has extensive experience in cosmetic dentistry and is interested in facial beauty.  In 2004 he obtained his certification in Botox and collagen therapy treatment from Harley Street London.
Dr.  Azari is assisted by a highly skilled team of dental assistants.
We will be happy to speak to you in English, Dutch, French and German.